Castrol should be known to every fan of cars and motorisation as a really strong brand. Since the year 2007 this brand has become really involved in football. Successful UEFA Euro 2008 campaign has made Castrol sign a six year long contract of sponsoring football FIFA World Cup till 2014. It is now one of the biggest sponsors of football in the world. In 2010 it was an official sponsor of South Africa World Cup and created a performance index that measures performance of every football player across top five leagues of Europe during the course of a 12 month period. Performance index allows football fans to analize skills of any single player and teams. The performance index system uses mathematical formulas which evaluate various player performances in terms of how individual actions either assist or prevent goals. The system itself takes into account the strength of the opposite team and the time in a game of every player. Rankings are published monthly.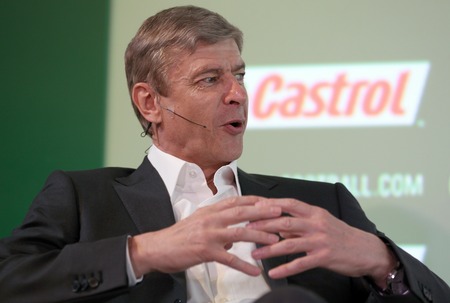 Photo by Ian Walton/Getty Images for Castrol
Arsene Wenger as an ambassador of Castrol said, that he decided to cooperate with brand because in this case advertising of football is stepping outside of average advertising schemes. He also said, that creating of performance index of players was something really interesting and he was impressed by the way Castrol used their experience in their job of improving cars work to objectively measure standard of every football player and every team.
Since September 2009, only three players have been in the top position:
Thierry Henry for 3 months (Since September 2009 to the November 2009)
Cristiano Ronaldo for 1 month (December 2009)
Lionel Messi for (sic!) 25 months! (January 2010 - today)
The current ranking by January 2012 (top 3, top defender, midfielder and goalkeeper) of Performance Index:
1
Lionel Messi
Forward
ARG
Barcelona
1111
⇔ (1)
2
Mario Gomez
Forward
GER
Bayern Munich
1044
⇔ (2)
3
Karim Benzema
Forward
FRA
Real Madrid
1034
⇔ (3)
6
Gerard Piqué
Defender
ESP
Barcelona
898
⇧ (7)
16
Florent Malouda
Midfielder
FRA
Chelsea
803
⇧ (18)
38
Wilfredo Caballero
Goalkeeper
ARG
Málaga
759
↓ (36)