Aston Villa captain Stilian Petrov has been diagnosed with leukemia according to the club's statement which said: "We expect to learn more about Stilian's situation in due course and we have moved quickly to support him and his family. During this time we ask that Stilian's privacy is placed ahead of all inquiries and trust that we will share information as we receive it. Stilian is cherished by many and he will get from Villa every ounce of love and support that we have to help bring this to a positive conclusion." Leukemia was diagnosed after Petrov developed a fever last Saturday and in the last hours it has been sadly confirmed. Earlier he reported his low energy levels to club's medical staff and has been advised to rest for few days because everyone hoped it was just a virus. Wednesday's blood tests found the cause of his symptoms and fatigue. Stilian is 32 years old and moved to Aston Villa in 2006, when former manager Martin O'Neill brought him from Celtic.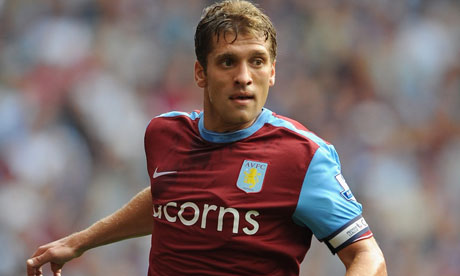 photo by Laurence Griffiths/Getty Images
Petrov's former Celtic team-mate Neil Lennon, wrote on his Twitter: "Absolutely inconsolable here regarding Stilian.He will overcome this like all the other barriers he faced in his life." In the statement on Celtic's website, Lennon added: "We are all absolutely devastated to hear this news. As a member of the Celtic family, it is important for Stilian to know that he has our unequivocal support in battling against this disease. Knowing Stilian as I do, and the many obstacles he has overcome in his life to get to the peak of his career, he will overcome this one too. On behalf of the players and the backroom staff we send our support and best wishes to Stilian, Paulina and the family. We are there for them all and they will never walk alone."
Get well Stilian.